I know what you are thinking and it is true, we don't have sense on this magazine. Isn't that the point? It says so in our Precept.
And when thou art high asf, ye shall speak in the nonsense and only thine fellow highmates and excellencies of the high table shalt understand thy words.

Coolmag chapter 1 vs 12
So without beating around the bush, here are some of the things that would have happened if Game Of Thrones was a Nigerian movie. You need a different level of imagination if you truly want to enjoy this post.
1. This will be Cersei Lannister
No doubt, this woman acts Cersei better than Cersei. Nollywood has been building her entire career to be like Cersei Lannister. Since Nollywood does not want to put her in GOT, we will do ourselves. Who else in the Nollywood industry can act an heartless mother like Patience Ozokwor.
2. Cersei will run mad and confess
"I will confess ooo. I will confess" will be the words that follows after some intense body itching. Then the confession will happen from season 1 to season 7 and waste about 45 minutes of the movie. After the confession, you will probably here that Igbo song in Lasisi's videos "iheme eh, iheme. In this life you will reap what you sow oooo. iheme eh".
3. Dragons? Nah!
Why waste effects on Dragons when you can have your own follow come Babalawo. The man will fight your battles for you and will be your guide everywhere you go. Dragons are just too much stress and they don't usually have sense (speaking from first hand experience I had in my dream, when i was 7)
4. Meet the Night King
If you are familiar with this man's movies, then you know he is the perfect candidate for the Night King. He does not need to audition for the part. The director will call him.
5. Arya will definitely lack manners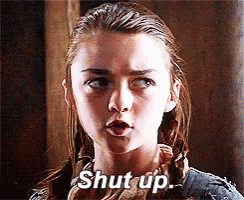 I believe you saw this coming. trust Nollywood to make Arya Stark as mannerless as it gets. Instead of sticking her swords at people, her mouth will do the sticking.
6. The Movie Poster
Just to end it all.
If this made you smile, share to your friends. Remember we have your address.