Yoruba demons are everywhere in Lagos. 
If you are trying to avoid a Yoruba demon coming to your life, then you must take this post seriously or sarcastically.
You never know when those guys are ready to attack. They can change format at anytime, but for now, this is the format they are using according to intelligence report from the CIA.
So let's go
1. A main phone…an iPhone
Once you see a Yoruba guy with this phone just start suspecting him. I will tell you why as we continue moving. Usually iPhone x and above
2. A supporting phone…a Samsung Galaxy S something
E get why oo. just continue reading.
3. A small button phone (optional)
This is the one they use to do business
4. Dark shades
So you can't easily ready their face when they lie to you. They can be talking to one girl and using style to scope another one's ass.
5. Main chic
This is usually the girlfriend they treat like the wife. The one they will treat with utmost respect who knows they are a flirt but still enduring it.They are usually well-behaved and respected. She is not always as beautiful as the side chics
6. Plush pam slippers
They wear the best palms. High grade, high quality like the ones from Zeinny crafts.
7. Always on Native or agbada
This ultimate way to spot a Yoruba demon from a thousand miles is when he is coming with dark shades and a native dressing. If it's a party, he will be on white or black agbada.
8. Crazy android phone pattern
Their phone patterns are usually horrible. Almost impossible to guess because…
9. They have 30 side chics
They have girls rushing them. Their WhatsApp alone is filled with side chics. That's why they have several phones. The Samsung is usually one where they chat with their main chick alone.
10. Roaming eyes
You can only see this when they are not on their dark shades.
11. a toothpick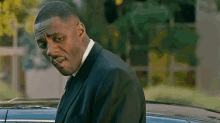 Usually at one side of their mouth or their ear. Once they eat amala with their friends at a canteen, they will rarely dispose the toothpick.
12. Sweet mouth
You already know this.