OK,  some Ankara styles are just out of this world. These Ankara styles will actually make you think of even wearing Ankara to an official job interview. If you are looking for the best ankara styles to sew in 2020. What African youths are turning ankara to these days are just out of this planet.
These ankara styles bridge the gap between Traditional and classy. Everyone wants to attend a wedding where you standout with your dressing but now too much to steal the whole show from the bride and groom. These ankra styles make that dream possible.
Ankara styles have come and gone, but these styles still stand the test of time. They actually make everyone wearing them look like Yoruba people that went to Harvard.
We have selected some styles from several people across Nigeria, both on instagram, one on one conversation and from pictures on various websites. We only went for the best and trust us to give you the best.
Let's take a look at these awesome styles
Have you seen anything so simple yet classy?
This is the kind of ankara that short English gowns are taking tutorials to be like. This ankara will sit all your gowns down and give them lessons on how to slay in any party. The color is so simple yet it makes you look fashionable. Forget the color, the styles is an amazing style for slim girls. This serves as an avenue to appreciate your amazing figure.
Ankara kimono jacket
Ankara kimono jackets are so beautiful. They bring the formality to traditional wears. You can as well wear them on jeans. Kimono jacket adds the final touch to a classy look.
Off-shoulder ankara style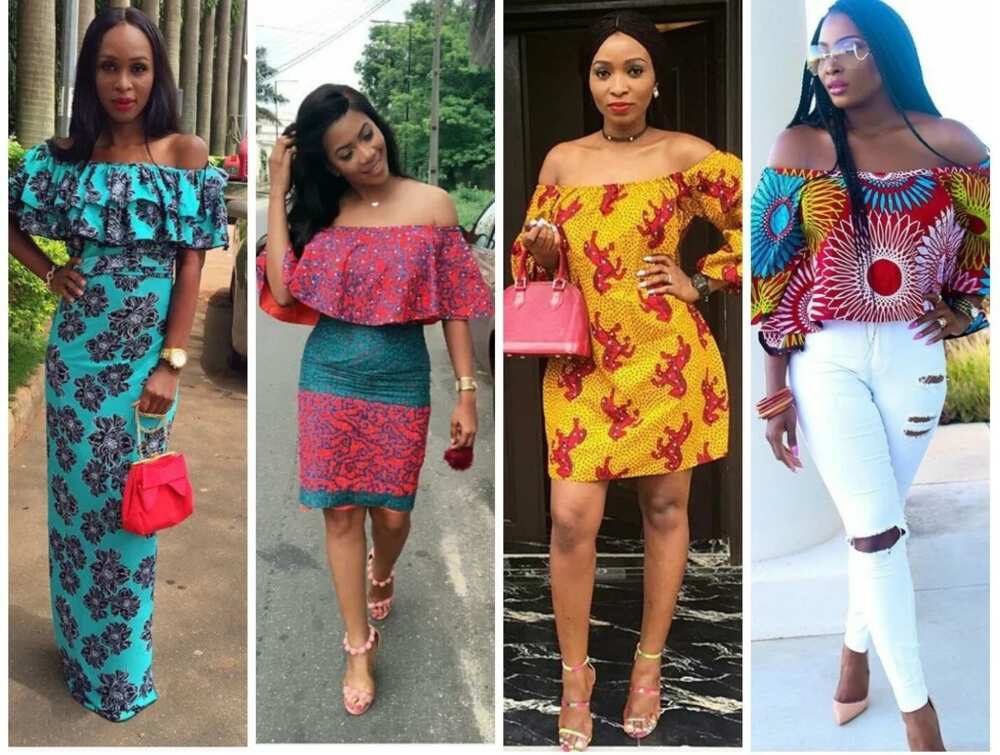 Looking for the best way to standout in a crowd? Ankara has gone beyond the normal wedding and normal wedding dress. Many people now wear ankara to several parties because of the kind of style you can sew using this ankara. You could just decide to step out in style with ankara and still look like you just studied fashion design and ankara styling in Harvard University.
Spaghetti strap blouse
Every young lady looks good on this. This is just a simple way to look stunning without trying too hard.