What do you know or what have you heard about Lagos Girls? That's all we shall be discussing in this article.
Apart from sharing few funny, interesting and personal  experiences with you, you'll come across a number of fact about the type of Lagos Girls you will definitely see anywhere you go in this city, here in this article.
There are different kinds of girls in Nigeria and you just have to be careful not to fall a victim. Most especially Lagos girls. As a single guy, this post is for you! Once you know their type, it is as if you had a discerning gift.
Frankly speaking, There's no city in Nigeria  like Lagos, the commercial capital of the country. A city that
Homes a sweeping amount of 20 million people.
With the number of years that I've been  in Lagos, here are some categories of ladies I have seen — which I believe you will come across at one point in time.
While this article is not tailored to trap Lagos Girls under the knockles, I have put together this facts purely birthed from experience with the motive to educate our guys and plant a wide grin on your face. Enjoy!
Types Lagos Girls you will come across anywhere
1. The eyes on the wallet geng
Talk of wolves in sheep clothing. They have one and an only motive which is to get at your cash. These girls can correctly estimate how much there is in a bundle of cash once they sight one.
They can be so friendly, outspoken and will tell you stories you will definitely be able to discern as lies. Their eyes are metamorphoses into HD scanners when in your  room to see where you possibly could keep cash. They will take any amount of money you offer them so long as it is averagely okay after sniffing that there are some extra cash in your custody.
The most effective way I would recommend you to handle them is to avoid spending a the night with them when you notice their intentions. Let me quickly share this experience :
"A girl has once stolen my cash, rolled it and slips it into her front hole but she was unlucky that I noticed and asked her to strip which she did but with her laps tightly together. I eventually parted her laps and saw the cash in her hole. I just had to let her off with the cash though"
2. The  Career and Religion freak
If Lagos is made up of only these set of ladies, musicians and showbiz promoters would have long relocated to
another city — maybe port Harcourt
As a worker in banks, companies or IT company, you must come across a lot of these women. They are always serious all the time. They dress the way they want to be addressed.
There are a lot of extremely career and religion minded women in Lagos. The Lagos corporate life is driven by this set women. They are hardly involved in frivolities and not really interested in gossip blogs. They favourites platforms are  career and personal development websites.
I'm sure you've seen one or two. Let's not mention names
3.  The positive attitudes
They tell you what they want and they give you what you want. They take it upon themselves to ensure you enjoyed their company and the right value for your money.
Most of these types of girls are doing this to make ends meet and are willing to stop being call girls once they meet a guy who decides to take them in as a girlfriend. Most of these types of girls have end up getting married to their clients and eventually becoming good house wives.
Let's talk of just normal girls, good girls so to speak who are straight forward in going down with you. Their disadvantage is that some guys take advantage of these girls and exploit them though in most cases they make so many good friends who are always there to help them in many small ways because of their positive attitude.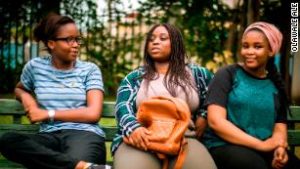 4. The Sugar Mummies
Sugar mummies in Lagos are very powerful and very influential, pray that your husband or boyfriend
do not cross their paths. Bye bye
If you haven't encountered sugar mummies in Lagos, it must because  you are literally confined to an area of Lagos where such women are non-existent and I doubt if there are any part of Lagos where they cannot be found.
If you don't look good enough or attractive enough for their liking, you may never come across them in Lagos
5. The Time consumers
My article is not complete until I mention the time consumers. You are probably familiar with these set of ladies in Lagos.
They are, in fact, the friendliest and usually use this tactics when they do not really like the guy they have to go down with.
They get involved in all kinds of gist ranging from fake lies, fallacies, black lies, lies and possibly some truth to complete the circle, they talk you into the entire time you were suppose be useful and demand to go to the bathroom when they discover you are bent on going down.
This tactics usually work well for such girls and there is nothing you can do about it if does work well, you are a loser here for sure.
6. Runs Ladies
Let's not juxtapose them with the sugar mummies mentioned above oh. There are always girls either in their employ or contact who they connect to men for a fee.  They are the bridge or middle men between the randy Lagos men and Call girls.
Runs women, on the other hand, ensure that the demand and supply of sex in the city remains a constant.
7. The well-inclined Predator
These set of girls put up the "not too money conscious" type of behavior, they may not initiate a bargain during meeting arrangements and if you attempt to do that they will discourage you and emphasize that you are an adult and you know what is good for a girl.
They may just say 'leave that till I come' or better still they do not like discussing money before meeting as it's not all about money. They put you at ease and make you feel like they do not really care about the money aspect of the meeting. But brotherly, Na scam!
To be safe in this case, ensure you do not play the good man with these girls, they are all in for the money and you should not expect anything more than that. Be strictly business like and maintain that you need the pricing sorted out before she even leave her location to come and meet you or vice versa; essentially ensure this is documented through messaging.
Be rest assured that such girls will back out when they discover you are ready to go it dirty with them.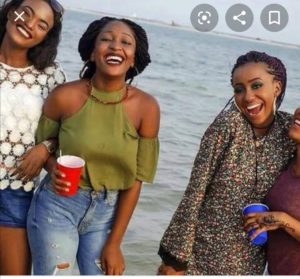 8. Types that no longer give a damn about relationship
This type of girls doesn't care about what anyone thinks, they do whatever they want and they prefer being flirty probably because they have been hurt a lot of time.
Don't call them flirt. That's what they've positioned themselves in.
9. Types that are eager to be in another relationship
Do you want to catch new fish? Go for these set of Lagos Girls.
They always wish they were in a relationship and complains about being single, they always want to get hooked up in another relationship because they cannot handle being single.
Where to find them? Hit the bar, nightclub or church.
They  see their mate enjoying their relationship. Hence, they always wish they were the one in love.
10. Types that are over-selective
All those lagos girls that never get tired of updating their spec according to the country economy. Let's address them.
These are the types you always find selecting and yet they will never find one person because of the way they are selective. They complain about this not good, that not good, they always compare whoever comes next to them with their "ex" which apparently will make them almost single for the rest of their Life. SMH to their marriage life
Hope you've learnt something. And as a lady reading this, I'm sure you won't want to deny the fact about these set of Lagos girls. Winks*
You want to hook up with a single Lagos girl, watch out for their types so you don't get 'shenked'. 
To read interesting content about Lagos and how to enjoy your life in Lagos, visit Fastlagos for original stories about Lagos and her lifestyle.